Fishbourne's men were out in force on Sunday 23 March for a rematch with the boys from Bognor. Yes it was the latest in the compelling series of friendlies with our neighbours, Bognor Tennis Club. They have thrashed us in the past, what would happen on home turf this time?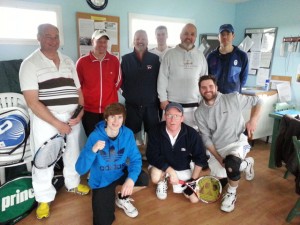 Andrew and Alan had a nail biter to kick off and at one set each against Bognor's Phil and Ricardo it was anyone's game in the third set tiebreaker. Eventually it went to Fishbourne 10-6.
There was another close one when James and David (Holmes) took on Bognor's Luke and Steve, Fishbourne again emerging victorious 10-6 in the third set tiebreaker.
Chris and Bob had an easier ride against Simon and Kevin and after Round 1 and some cracking tennis it was a clean sweep to Fishbourne.
The rest of the day's play was close but in the end the rain beat us and we all retreated to the Bull's Head for Paul's beer and sandwiches. Overall Fishbourne had won 54 of the 94 games played against Bognor's 40, and in completed matches had triumphed four-nil.
We look forward to our next encounter with eager anticipation…
These friendlies against neighbouring tennis clubs really are great fun and it's always good to play against new opposition. Watch the website for details of what's coming up next!