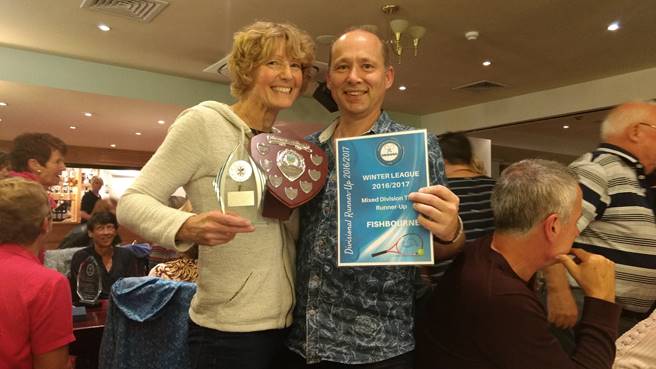 At the Portsmouth & District LTA trophy awards presentation on Thursday  19 October Fishbourne Tennis Club was presented with the following awards:
The trophy for winners of the Men's Fourth Division – Summer league.  Our first Men's team were promoted to the 3rd Division
Certificate for runners up of the Mixed Division 3 – Winter league.  Our team were promoted to the 2nd Division
A trophy for best 'Post Match Tea' for the Masters Divisions  –  Summer league
Luke McEwen and Persephone Hagan proudly received the awards on the club's behalf. Luke writes:
It was a fun and social occasion and open to all players and captains in the leagues.  There was a hot and cold buffet and attendance next year is thoroughly recommended and encouraged.
There are now 123 teams playing in the winter league, of which seven are Fishbourne's.  We were also reminded that Alan Best would like to receive match reports, together with photos to go on their website and in the local paper.