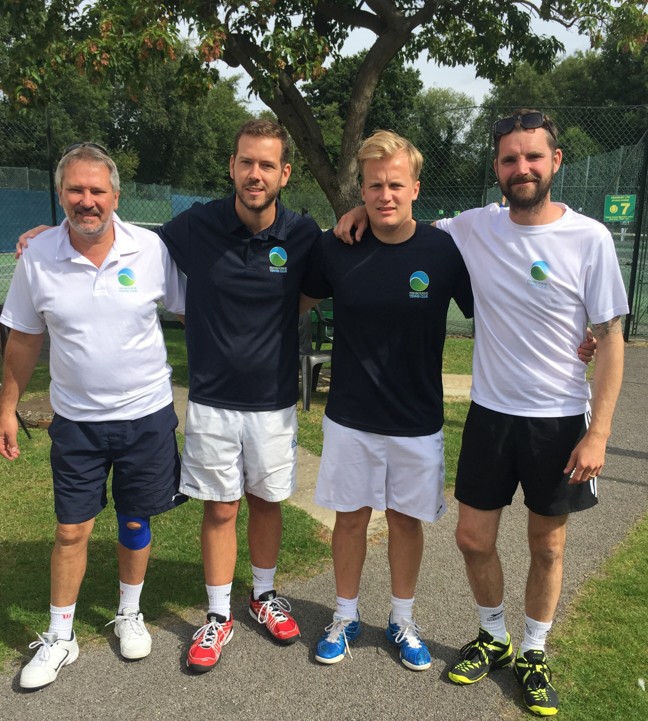 Glorious weather on Saturday morning 1 August and we all pile into the Polo – talk about how many elephants can you fit in a Mini! We are off to Crawley for our important penultimate match in the men's doubles Sussex League tournament. There's a lot at stake here as we sit second in our league on 5 points and Crawley has 3 points – whoever wins pretty much secures the second promotion position.
Crawley's members are out in force when we arrive. With all courts full it is decided to make use of their three indoor courts under the dome. We look forward to something a bit different, thinking it may be cooler, but the reality is it's like a greenhouse in there! It really puts our fitness (and our new club shirts) to the test!
We kick off with our  No1 pairing of Phil Tite and Chris Gosden against their No2 pairing. It quickly becomes apparent what we are up against. They are a  very strong team!
Chris and Phil are quickly 3-0 down without so much as getting a racket on the ball, big hitting from the baseline meaning we just could not rally with them. A  change of tactic was needed and we decide that getting to the net as quickly as possible is the best way to make this match even slightly competitive. The change does pay some dividends with games going to deuce and more points on our side won. However their No 2 pair run out 6-1 6-1 winners to illustrate their superior game.
Our No2 pair of Sam Hart and James Course start well against Crawley's No1 pair, going toe to toe on serve up to 4-5, Sam's big serving and keen eye for an angle working to good effect, backed up by an impressive set by James. But serving to stay in the set, we are broken by the smallest of margins and the set goes to Crawley. After the efforts of the tight first set, Crawley cut out the mistakes and, full of confidence, take the rubber 6-4 6-1.
So to the reverse rubbers.
Sam and James take on Crawley's No2 pair and unfortunately are involved in a match that lasts just 25 minutes and are beaten 6-0 6-0. Crawley's players should be competing at a much higher level!
Chris and Phil manage to be more competitive in their rubber against Crawley's first pair. The first set is tight, Crawley hitting everything big but not always accurately and they make a lot of mistakes. Chris and Phil stay consistent and really mix up play but still the first set goes to Crawley 7-5.
Chris and Phil break back in the first game of the second set and manage to hold serve throughout, nearly getting the double break. Chris served for the set at 5-4 but is broken and after more holds of serve a tiebreak is played which Crawley win 7-4 to take the rubber 7-5 7-6, and the match 4-0.
For FTC, it certainly was a learning curve – the learning of how to keep your head up and try to change tactics when up against players on a different level.
Still it's always great to get the lads together and represent Fishbourne the best we can. Upwards and onwards.
Chris Gosden