Dear Fishbourne Tennis Club member,
As you know, Fishbourne players of all ages and abilities have enjoyed taking part in the Portsmouth & District tennis league for several years now. It's always good fun and increasingly successful for us as well.
At the recent P&D awards evening at the Lee on the Solent club, FTC was represented by Kate Gurl, Mandy Davies, Shaz Morris and Jazz Kimbell who picked up four awards for the winter 2018/19 season, three runners-up trophies and a shield for FTC's mixed doubles team under the captaincy of Cressida Williams.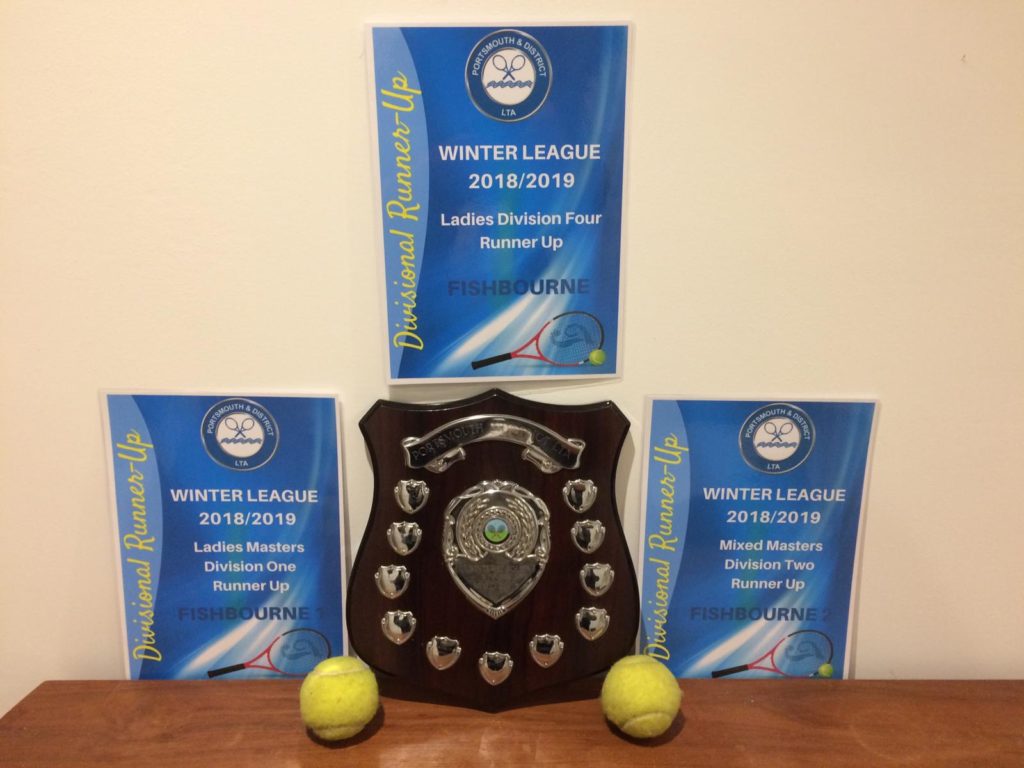 The summer season this year hasn't been quite as successful, partly because success in the past has meant promotion to a higher division – where suddenly the competition is a lot tougher!
The P&D Summer 2019 results for Fishbourne are as follows:

Men's 1 (Tom Craddock), fifth in division 2; three wins and three losses (with one match unplayed)
Men's 2 Dick Nicholson), third; four wins and two losses
Ladies (Kate Gurl), third; four wins and two losses
Mixed (Cressida Williams), fifth; three wins and four losses
Masters Ladies' 1 (Mandy Davies), fourth; four wins and six losses
Masters Ladies' 2 (Nicola Dawtry), fourth; with one win and seven losses
Masters Mixed 1 (Luke/Simon F), sixth; three wins and four losses
Mixed 2, division 2 (Jazz Kimbell), fifth; four wins and three losses
Masters Men's (Bob Murray), seventh; one win and five losses
As you can tell, it's not always about the winning but the taking part, enjoying the tennis and playing with new people at other clubs (as well as enjoying lunch afterwards).
Now, it's time for the P&D winter league, which starts now and runs to the end of March. FTC is again fielding nine teams, with men's, ladies' and mixed teams for FTC members of any age (all weekend matches) and Masters teams for players over 45 (women) and 50 (men) which are played on weekdays.
This is your chance to take part. If you would like to be considered for a place in one of the teams contact the relevant captain or make yourself known at the matchplay practice session on Monday evenings:
FTC Committee