9 am Sunday morning:, whilst most took a leisurely breakfast and planned their relaxing day ahead, the four members of our mixed league were starting the road and sea journey to play Ryde Mead for the first fixture in the Portsmouth and District Summer League (writes David Holmes).
And we weren't alone on the mid-morning catamaran. We joined up with a men's team from Portsmouth who were also heading for Ryde Mead plus a team from the island that had already played their game in Portsmouth and were heading home. Ferries, you see, are not just for festivals and holidays.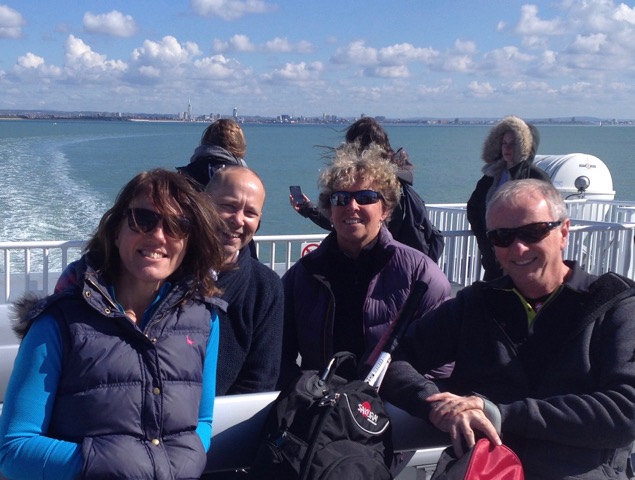 Fittingly, it turned out to be a glorious day of constant sunshine, with the home team's courts offering a wondrous panorama of the Portsmouth skyline.
After three hours of thoroughly enjoyable tennis, the match ended in a 2-2 draw to give the Fishbourne early birds a well-earned point.
Luke McEwen and Priscilla Pendle have pedigree as a mixed pairing and quickly found their stride against Ryde Mead's second pair winning 7-5 and 6-4.
On the other court David Holmes and Cressida Williams had time for a quick exchange of playing preferences before they started the journey as a new pairing but found Ryde's number one couple too consistent and were beaten 6-1, 6-1.
However, the fortunes were reversed in the second round when David and Cressida found their form to win 3-6, 6-2, 7-5 with the final set requiring real application with the sun at its highest point and the result finely balanced.
Luke and Cressida encountered the same hard-hitting and determined defence work of Ryde Mead's first pair and were beaten 6-2, 6-0.
It was an encouraging start to the season for our mixed team. The games were evenly matched, there were no easy points, but we acquitted ourselves and are looking forward to establishing Fishbourne Tennis Club as worthy opponents in what is a new league for members.
The team learned some valuable lessons on the Isle of Wight including the need for more consistency and tactical awareness. Plus we have a club member who can express his or her on-court feelings in three languages!