Fishbourne Tennis Club is going from strength to strength in 2014. Twenty seven new members have signed up since April, many taking advantage of the club's special membership offer to encourage more families with junior members to join.
That offer – £75 for one adult and up to two juniors, £150 for two adults and up to four juniors for 12 months – applies until the end of September so if you know anyone who might be interested let them know.
The recent perfect tennis weather has been ensuring busy club sessions and a storming – if hot – start to the club tournaments. It also helped make the club Open Day on 12 July a big success. Previewed in both the Chichester Observer and the Village Magazine, the afternoon enjoyed a constant stream of visitors of all ages and abilities.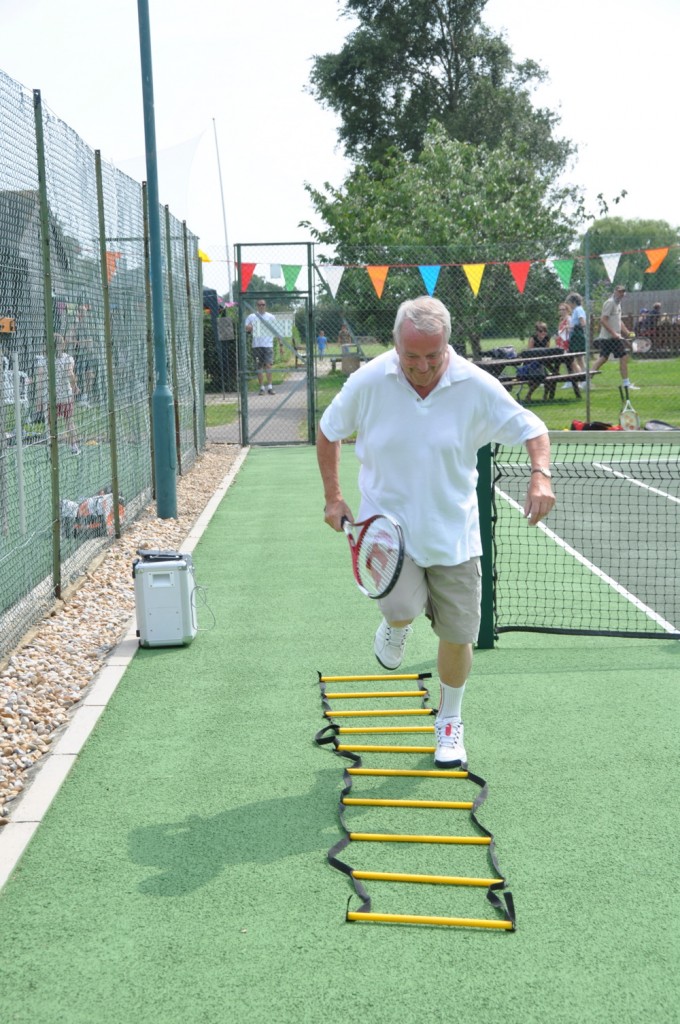 Six members joined up on the day – some were so keen they insisted on handing over cash! – and membership sec Angie is currently working her way through a list of potential members who left their details. Generation Tennis, which ran the Open Day in conjunction with FTC, also found it time well spent with great interest in the coaching classes and several new victims for the Cardio Tennis class coming forward. Even FTC treasurer Bryan Doling (left) tried it!
Visitors were able to take part in not just coaching and cardio demos, but also get a game with the club members who gave up their Saturday afternoon to be there. There was also a speed serving competition (see separate post) and complimentary refreshments included sandwiches, cakes and strawberries and cream.
"The Open Day was a great success on all fronts and we will be doing the same thing every year from now on," said chairman David Lord.
"I am especially pleased that so many juniors and younger people have joined the club recently – showing that we are not just the best value tennis club in the area but truly a club for everyone."
Fishbourne Tennis Club now has 153 adult members, with 22 juniors.
A full report of the Open Day is due to appear in the Chichester Observer 25 July.