Our New Online Booking System – from 1st November 2015
What are its benefits?
Book online using your computer, tablet or smartphone.
Quick, simple and easy to book, change or cancel.
Check court availability and book your slot(s).
Important: Until the system is set up for public bookings, any bookings made within 7-days of play should be done via the Fishbourne Centre as usual.
What do members need to do?
1. Existing members will be contacted by email later in October.
2. Simply click on the link in the email to set up your password and login details.
3. When you are ready to book, go to our website -www.fishbournetennisclub.org.uk – and click on 'Book.'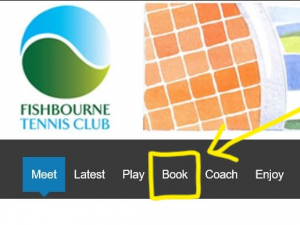 4. Check your dates and times first, and then login and book.

5. You will receive an automatic confirmation email. (If you bring your email with you, then you have proof that the court is yours).
Please check our website if you have any queries. We will add to FAQs as the booking systems rolls out.