Reigning Fishbourne men's tennis champion Tom Craddock retained his singles trophy and added a doubles title at the Fishbourne Tennis Club Championships Finals Day, held on Saturday (2 September).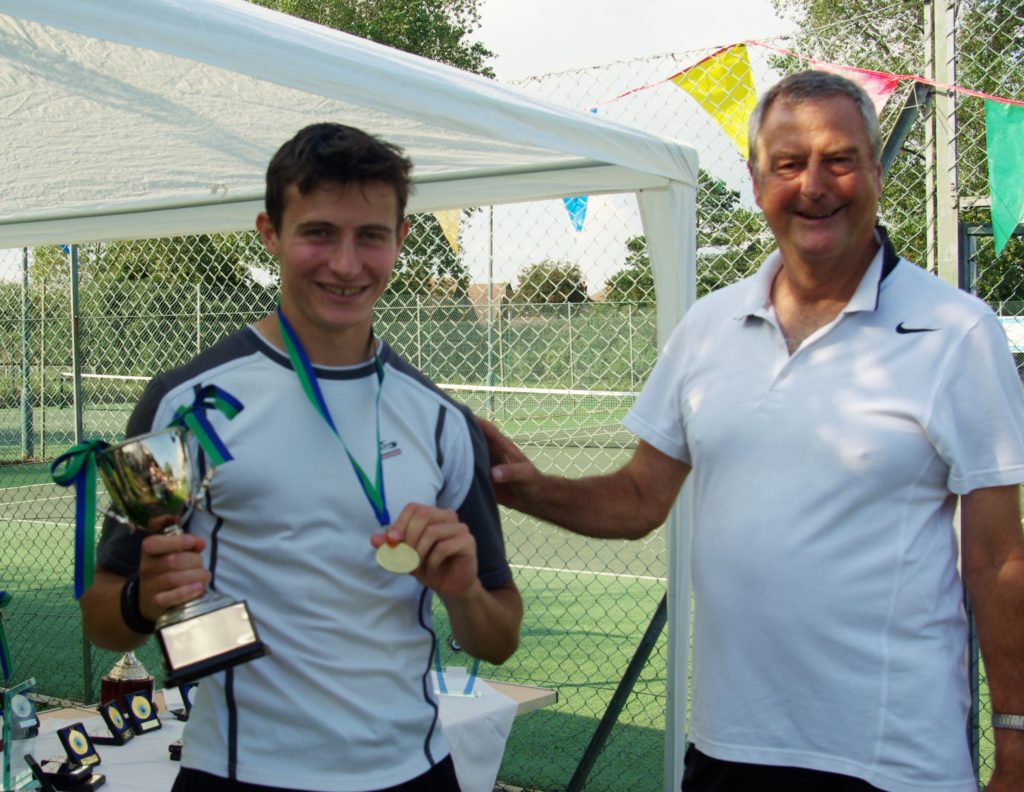 But this year there was a new champion among the women, with Tamsin Saunders holding aloft the ladies' singles trophy after an enthralling match against Mandy Davies.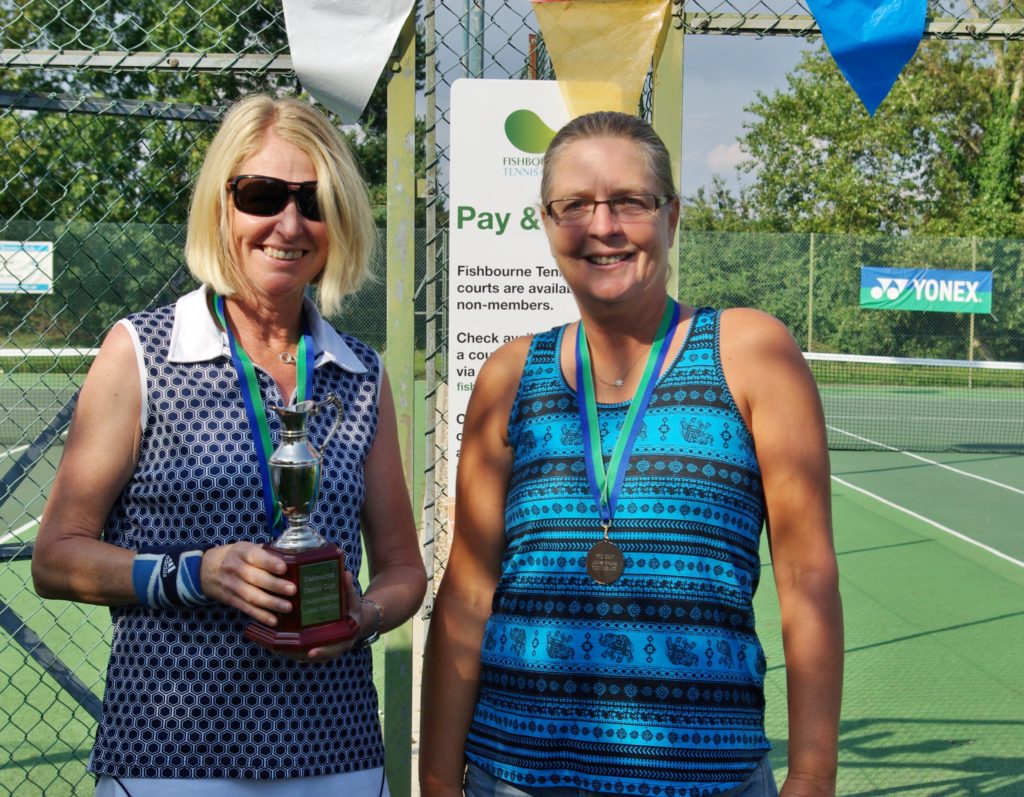 Both singles matches were played to an exceptional standard that kept the large crowd captivated in the warm sunshine, and set the tone for an afternoon of doubles finals made memorable by some classic confrontations.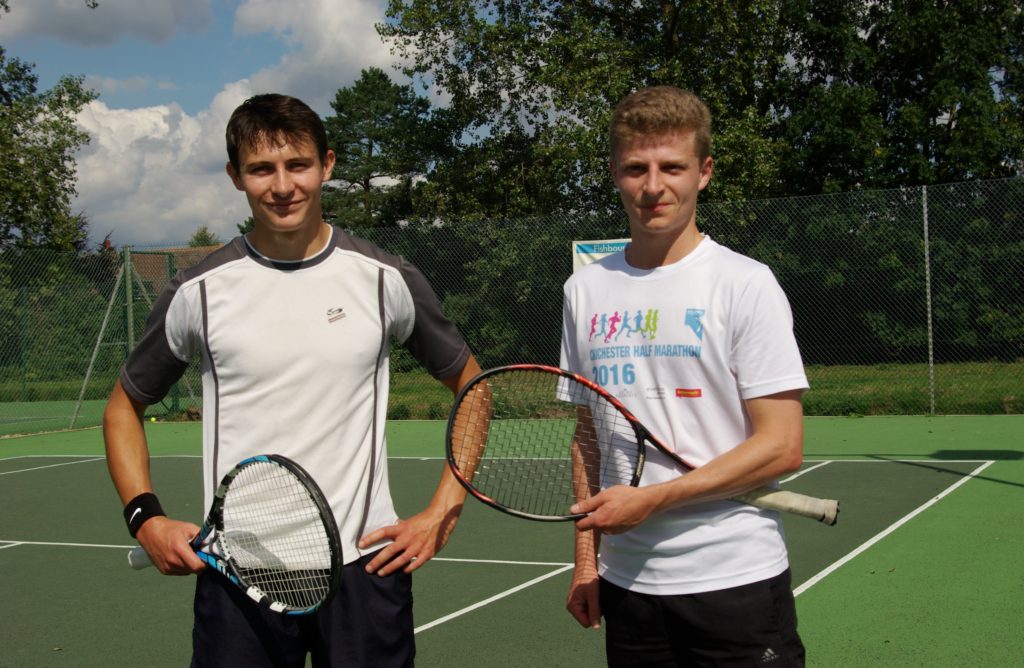 Tom Craddock battled against Tom Dry – brother of last year's defeated finalist Harry – for over two hours. Craddock controlled the first set with powerful serving, huge topspin forehands and cross-court backhand winners that had his opponent scampering to every corner of the court.
Dry's athletic ability to chase down every ball paid off in the close-fought second set which he won 7-5, setting up a third set finale which didn't disappoint. The set could have gone either way, but with Craddock taking the first break of serve not even the resolve of a pumped-up Tom Dry could prevent Craddock serving out the match.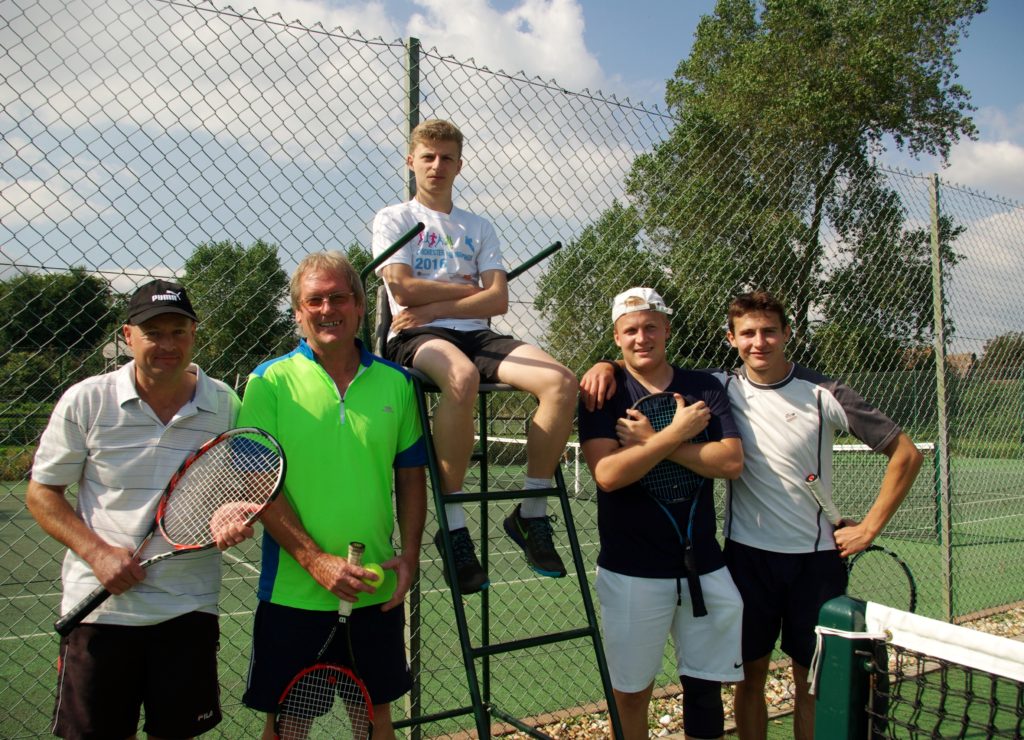 Little more than half an hour later Craddock was back on court with partner Sam Hart to take on former singles champions Andre Rogers and Bill Cove in the men's doubles final. The first set proved straightforward for the younger men but as Rogers and Cove settled they pushed them all the way in the second, just losing out in a tiebreak.
As with Craddock, ladies' singles champ Tamsin Saunders went on to further success and won the doubles title, with partner Sue Bargery, in a contest against Kate Gurl and Shaz Morris.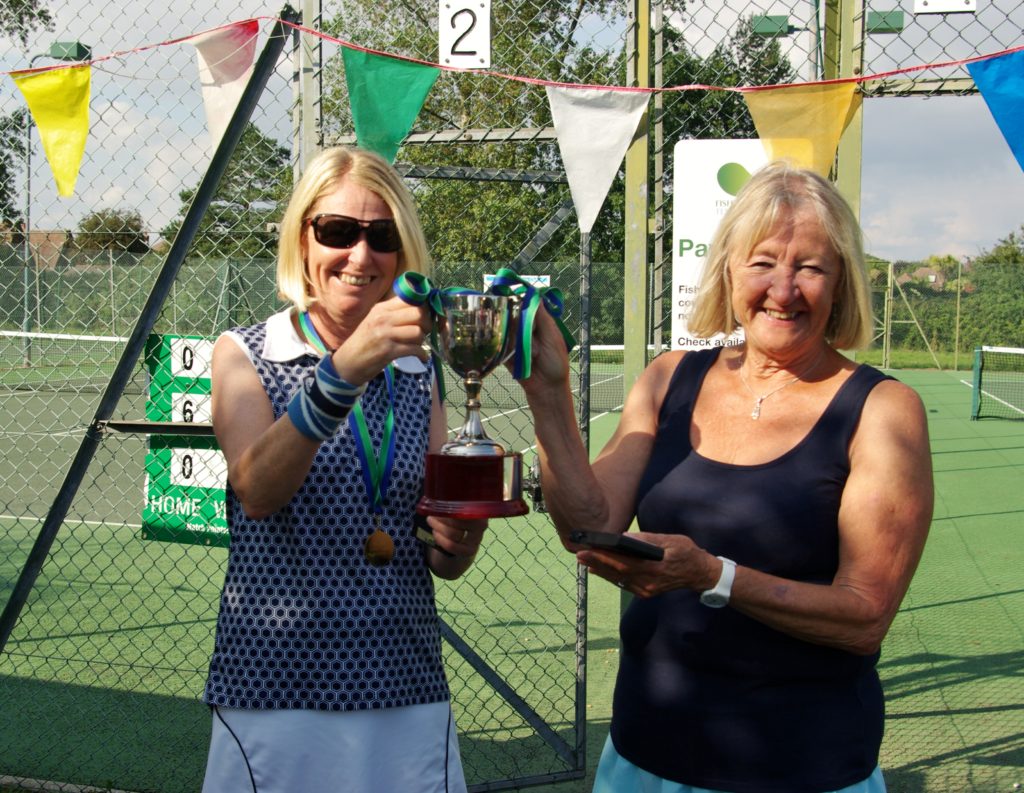 Nikki Scott and Bill Cove took the mixed doubles title after a close-fought battle with Sue Groves and James Wilson.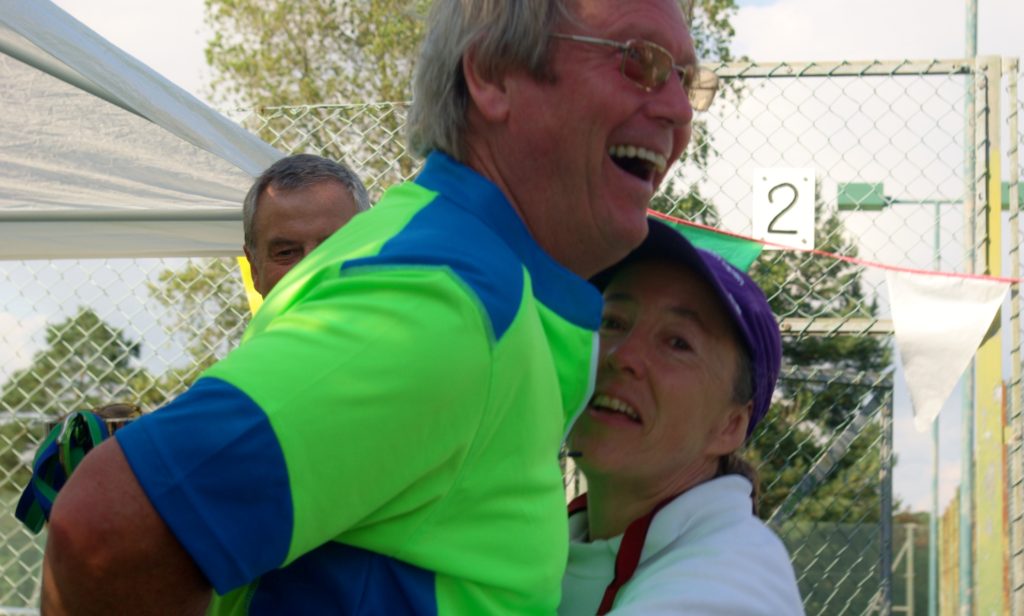 Jean Watson and club chairman David Lord were two more to take home a brace of trophies after successes in the Vets65 tournament introduced as part of the FTC Championships for the first time this year. The competition, for men and women aged more than 65, proved popular and will be a regular feature of the tournament from now on.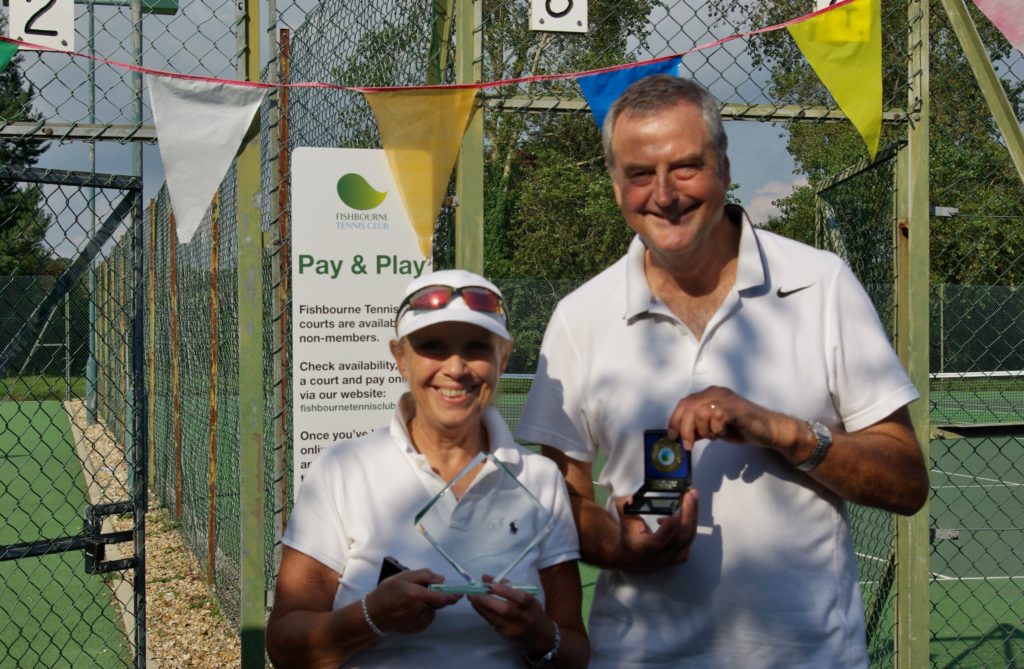 Winner of the Vets65 men's singles was Gordon Read who, after an epic battle against Ian Williams, picked up the trophy…along with a packet of Bran Flakes.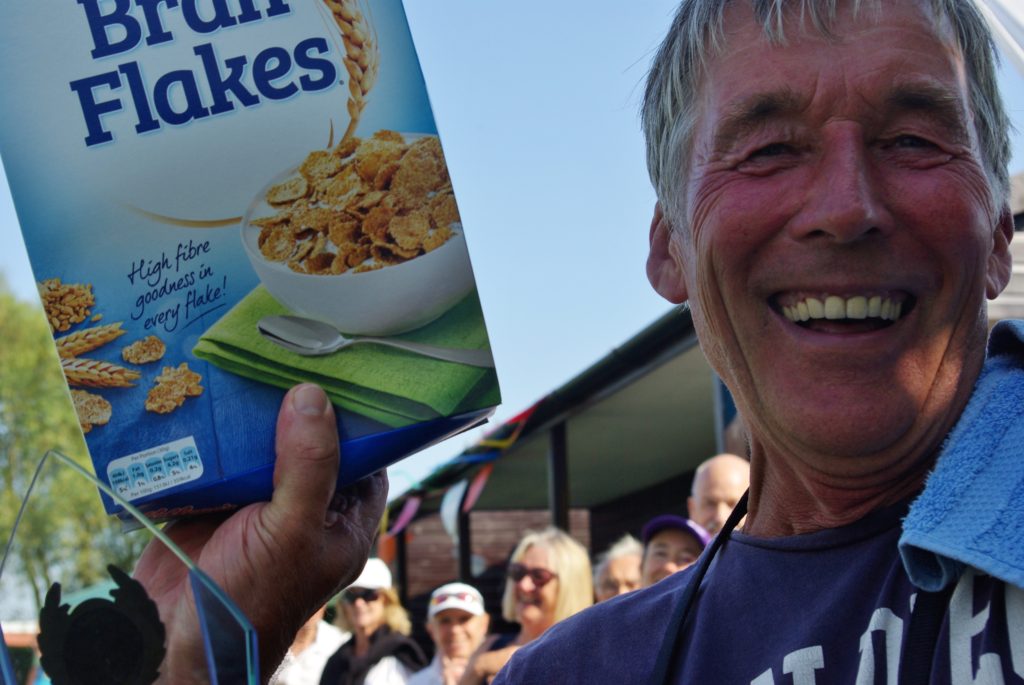 In total there were nine finals involving players from their early 20s to their mid 80s, reflecting the inclusive nature of the club.
FTC chairman David Lord said: "Congratulations to all the winners for a day of fantastic tennis. Our Finals Day this year was one of the best ever."
David, who is stepping down as chairman at the end of September, was presented with a bottle of champagne in recognition of the fact that this would be the last time as chairman that he would hand out the trophies at Finals Day.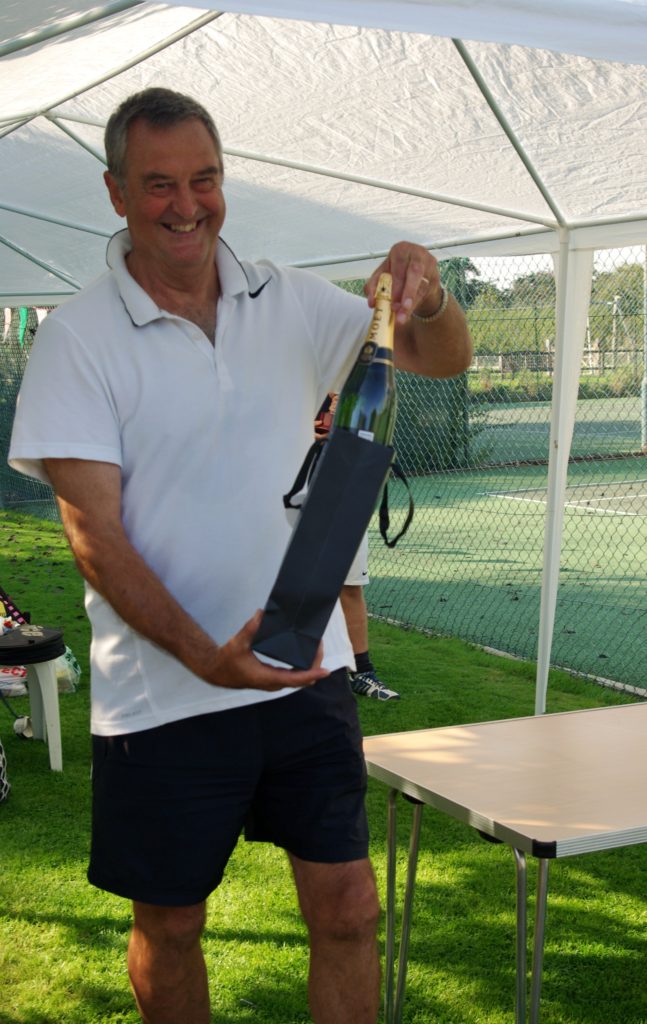 All photographs: Nikki Holden
Fishbourne Tennis Club Championships 2017 results 
Men's Singles – Tom Craddock def Tom Dry, 6-0, 5-7, 6-4
Ladies' Singles – Tamsin Saunders def Mandy Davies 6-3, 6-1
Men's Doubles – Sam Hart and Tom Craddock def Bill Cove and Andre Rogers 6-1, 7-6 (tb)
Ladies' Doubles – Sue Bargery and Tamsin Saunders def Kate Gurl and Shaz Morris 7-5, 6-3
Mixed Doubles – Nikki Scott and Bill Cove def Sue Groves and James Wilson 3-6, 6-0, 6-3
Vets65 tournament
Men's Singles – Gordon Read def Ian Williams 6-2, 6-7 (tb), 7-5
Men's Doubles – Jim Aman and David Lord def Edgar Houlson and Brian Williams 6-2, 6-3
Ladies' Doubles – Sue Bargery and Jean Watson def Peggy Burnand and Elizabeth Williams 6-1, 6-3
Mixed Doubles – Jean Watson and David Lord def June and Roy Hay 6-1, 6-3