Please note that all bookings by members should be done online only. Our friends at the Fishbourne Centre are no longer responsible for bookings. Online booking means that you can book courts from your computer, smartphone and tablet. If there is a free slot you can book it – that could be 2-weeks from now or 1 minute from now. FAQs are below.
The new artificial grass surface on Court 2 is reserved for members' use only. Members of the public are not able to use it. There will be a separate combination code for Court 2 which will be advised to you. Please ensure only correct tennis shoes/trainers are worn on this court.
Floodlights are available to members AT NO CHARGE on Courts, 2, 3 and 4. The lights switch box  for members' use is located on the wall by the door inside the clubhouse. Please only turn on the lights to the court you need. And please ensure that, if no one is waiting to play, the lights are turned off after use. Remember: only  book Court 1 when it is light. The booking system does not take into account the changes in daylight hours.
IMPORTANT: Four-digit lock code
You need a 4-digit code to our combination lock which will be printed on your booking confirmation email. Please print off the entire email with the four-digit code and bring it with you, as you may be asked to provide it as evidence of your booking. Unfortunately, if you forget the code you will not be able to get into your court. The Fishbourne Centre does not have the code. Click below to see a larger image.

Let's book!
Start by selecting the date when you want to play. Then click on the slot which you want to book. As a member your email address is registered with our online system. The first time you book you will need to confirm details. With future bookings, you go straight in.
Powered by OpenPlay.co.uk
Frequently Asked Questions (FAQs)
What happens when I use the system for the first time? The first time that you book, you will need to record a secure password, then simply book. This creates your profile, so you can review, alter or cancel bookings. You will always get an email to confirm bookings (spam-filters allowing).
How do I check, alter or cancel booking? There are three ways – i) the simplest way to go to the top of this page; under Book you can check, alter or amend your booking. Try this first 🙂 ii) Go to your confirmation email and click on the cancel/alter link, and login to your profile. Go to Court/Pitch Bookings and make your change. iii) Go straight to www.openplay.co.uk, login [top right] and go to your profile. Go to Court/Pitch Bookings.
I get to the end of my booking, and the page displays

< Signup/login

– but I'm already a member. Almost there, look at the bottom left of the page. Click on Have an account? click here to sign in. This is the last step 🙂 Click to see a larger image.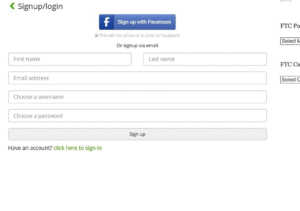 When contacting us, please remember we are all volunteers – tennis players like you 🙂