Coronavirus update, 13 May 2020: the resumption of tennis from today applies to club members only. Public bookings are not being accepted at this time. 
Non-members can book courts and floodlights at Fishbourne Tennis Club
Fishbourne Tennis Club welcomes public bookings on three of its four all-weather courts. Courts 1, 3 and 4 are able to be booked by non-members. Court 2 has an artificial grass surface and is reserved for members' use only. Courts 3 and 4 have floodlights available and these can also be booked by members of the public on an hourly basis. Only book Court 1 when it is light. The booking system does not take into account the changes in daylight hours.
Booking of courts and floodlights is done exclusively online. It is a convenient and easy way to book and manage your tennis. Please note that you are booking with Fishbourne Tennis Club, and not our friends at the Fishbourne Centre. Please pay with a credit/debit card. It is not possible to pay with cash. You will be asked to supply your email address when booking. After your booking has been accepted you will be emailed confirmation containing your exclusive four-digit code to give you access to the court (and also the code for the floodlights, if booked).
Please note that Pay-and-play customers play at their own risk and accept that they are not covered by the Club's insurance. Terms and Conditions apply – please see the bottom of this page.
IMPORTANT: Four-digit lock code
You need a four-digit code to our combination lock on the court gates. This will be printed on your booking confirmation email. Please print off the entire email with the four-digit code and bring it with you as you may be asked to provide it as evidence of your booking.  Unfortunately, if you forget the code you will not be able to get into your court.  The Fishbourne Centre does not have the code. If you have booked floodlights, use the four-digit floodlight code to open the lights switch box on the outside of the clubhouse by the door.
Click below to see a larger image:
Let's book! Start booking here . . .
Hourly court cost is £6.
Floodlights cost £6 per hour
You may book up to 3-days (72-hours) in advance.
Would you like to see detailed instructions on how to book? Click here >>
Have you got your FOUR-DIGIT CODE? Without it you cannot play.
Use the online booking sytem below. Change dates and times to find a suitable slot; click on your slot/time to begin booking.
Powered by OpenPlay.co.uk
Public Tennis Terms and conditions.
Courts may be booked up to 3-days (72-hours) in advance. Any bookings exceeding 3-days may be cancelled without prior consultation at the discretion of Fishbourne Tennis Club Committee.<l/i>
If the court has been pre-booked by another customer your period of play must not extend beyond your own pre-booked session.
Please remember that we are a small club, run by our members. We are all volunteers. We are not a council run tennis court. Please be respectful to all that you come into contact with.
No ball games other than tennis to be played on the courts.
Please ensure you close the gate on entering and leaving the courts. Make sure that the combination code has been altered.
Appropriate tennis wear must be worn at all times while using the courts. Tennis shoes/trainers must be worn. Absolutely no work shoes/boots.
Data Protection Act 1998. No booking data is kept by Fishbourne Tennis Club. For more information, please contact our booking system provider – www.openplay.com
Fishbourne tennis club reserves the right to make changes and alterations to any booking without prior consultation.
If you cannot provide your booking reference to a Fishbourne Tennis Club official, you will be asked to leave.
Refunds will be issued at the discretion of our Treasurer. Please use the online contact form below.
Payments cannot be made on court or at the Fishbourne Centre. All bookings are online.
Frequently Asked Questions (FAQs)
How do I check, alter or cancel booking? There are three ways – i) the simplest way to go to the top of this page; under Book you can check, alter or amend your booking. Try this first 🙂 ii) Go to your confirmation email and click on the cancel/alter link, and login to your profile. Go to Court/Pitch Bookings and make your change. iii) Go straight to www.openplay.co.uk, login [top right] and go to your profile. Go to Court/Pitch Bookings.
I get to the end of my booking, and the page displays < Signup/login – but I've booked before. Almost there, look at the bottom left of the page. Click on Have an account? click here to sign in. This is the last step 🙂 Click to see larger image.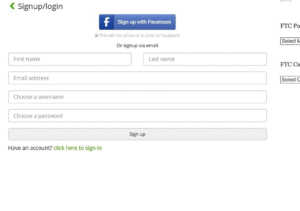 When contacting us, please remember we are all volunteers – tennis players like you 🙂