Swing into the festive season
Do you know the difference between your jigs and your reels?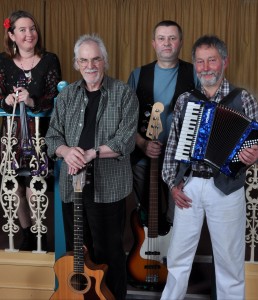 We know someone that does and, backed by one of the South's top traditional dance bands, that person will be calling the shots at our Christmas Barn Dance & Ceilidh.
Squinty McGinty (pictured), a four-piece band plus a caller, are regulars on the folk-based circuit and have enlivened many parties, wedding receptions and corporate events with their energetic mix of country and folk music.
The all-inclusive nature of a barn dance and ceilidh means that everyone is encouraged to join in with the caller providing guidance to enable beginners and seasoned dancers alike to seamlessly swing into action.
Tickets for what will be a lively and memorable evening on Saturday 13th December at The Fishbourne Centre go on sale shortly. In the meantime, please put your name down in advance on the clubhouse noticeboard
Priced at £15 per person, admission also includes a fish and chip supper.