Good weather, a huge turn-out and lots of tennis ensured that FTC's Open Day on Saturday 16 May was voted a big success. The icing on the cake was the, er, cakes – and lots of 'em!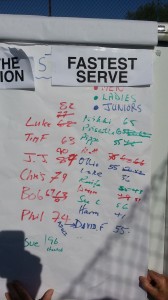 David Lord signed up the first new member (pic below) while Tim and David H manned the membership stand all afternoon – at one stage people were queueing up to join the club.
Everyone, of all ages and abilities, was able to take to the courts for a game, while there was enthusiastic support for the Cardio Tennis demos and the Fastest Serve competition, won by Luke for the men with 82mph and Ollie for the juniors with an impressive 55mph, while the ladies contest ended in a  shoot-out between Priscilla and Nikki after they both hit 65mph, Priscilla eventually running out the winner.
The FTC committee would like to thank all those members who turned up on the day to help, and those who kindly provided beautiful home-made cakes (yes even those who bought 'em!), as well as Alex, Stephanie and JJ from Generation Tennis who did so such to ensure the success of the event.,
Enjoy the pictures…